Taiko Drummers of Ota @'nD's'`D'hD'j'n@'y'`@'l'x'n'i'h'm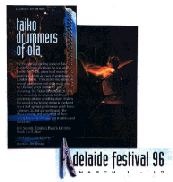 @O.TA.I.KO ZA MYOJIN @
(when romanized -
O.TA.I.KO ZA MYOJIN,
where
"ZA"
refers to group and
"Myojin"
gracious god) was first formed in the town of
Ota
.
@
Ota Town
, situated in Fukui Prefecture, is rich in Taiko history. The first drummers date back to the start of the Edo Period (1600AD), where local residents would beat drums at Tsurugi Jinjya (the towns main shrine) as a way of worshipping their same guardian deity. The tradition was passed on through generations and today. Ota Town has various styles of Japanese drumming, each representing the different folk customs and traditional arts of the prefecture and Japan.
O.TA.I.KO ZA MYOJIN
a more modern style of Japanese drumming was first formed in 1989. Since 1990, through the careful teachings of Mr Yoichi Watanabe, a famous professional percussionist in Japan, and strict, rigorous, physical training, they made their first debut in 1991. Since then, the level of their performance has soared. The strong will and passion of their drumming has impressed audiences all over Japan. They have performed throughout the nation including the 1993 National Culture Festival, and the lwate Prefecture Governor's National Taiko Awards Ceremony, receiving first prize.
O.TA.I.KO ZA MYOJIN
have successfully developed a traditional performing art into something more modern. The sound of the drums both old and new are combined into a vital, spiritual performance, leaving listeners dazzled and breathless. The physical energy and excitement of their performances has made them popular with audiences all over Japan.
@'P'X'X'O
July 7th - Establishment of the
O.TA.I.KO ZA MYOJIN
Teacher and Composer: Mr Yoichi Watanabe (a world famous percussionist)
@'P'X'X'P
August 24th - first annual
O.TA.I.KO
Festival.
Debut of their first melody "Yumei Kaigan"(Discover Your Dream), performed live in front of 16,OOO people
@'P'X'X'Q
January 1st - New Years Eve concert at Tsrugi Shrine, Ota Town, recorded live on NHK radio.
May 5th - NHK Golden Week Fair at the NHK Broadcasting Centre, Tokyo.
August 22nd - 1992
O.TA.I.KO
Festival.
Debut of their famous African Beat Melody, performed live in front of 24,OOO people.
October 24th - Fukui Prefecture's "Furusato Zukuri" (Prefectural Development) Fair, recorded by Fukui Broadcasting Television.
@'P'X'X'R

January 27th - Fukui Broadcasting Commission's "New Year's Festival held at Fukui Phoenix Plaza.
July 14th - Appeared live on NHK's "Don Don Furusato Plaza" at the Nagoya NHK Broadcasting Center
July 31st - Fukui Broadcasting Commission's 1993 Radio Fiesta live at Fukui City Central Park.
August 2lst - 1993
O.TA.I.KO
Festival.
October 11th - Participants and winners in the Iwate Prefecture National Governor's Taiko Awards Ceremony.
November 12th - Concert at the Performing Arts of Hokuriku. Recorded for television for the 25th of November.
@'P'X'X'S
February 19th - The Iwate Prefecture National Awards Ceremony was aired on NHK National Broadcasting Satellite Television (BS2).
July 27th - Performance at Mie. Prefecture's Festival Exposition.
August 6th - Performance at Niigata Prefecture's Teradomari Harbour Festival.
August 20th - 1994
O.TA.I.KO
Festival.
September 25th - Performance at Takefu Industrial Fair.
October 23rd - Performance at the Fukui Technical College of Advanced Education
November 6th - JTB's Echizen Gala Performance at Fukui's Phoenix Plaza.
November 20th - Participants in the "Iki Iki Furusato" contest at the Nagoya NHK Broadcasting Center, aired on NHK on November 27th
@'P'X'X'T
January 20th - Performed live in the National "Furusato" Fair at Tokyo Dome's "Big Egg"
August 19th - 1995 O.TA.I.KO Festival.
@'P'X'X'U
January 15th - Performance at the Takefu "Seijin" ceremony, Takefu Culture Center
March 1st - 6th - Guest performance in the
1996 Adelaide International Festival of Arts
, Australia.
Venues include : Elder Park Opening Concert
Red Square
Her Majesty's Theatre
April 14th - Performance at Himeji Castle's Cherry Blossm Taiko Festival
June 22nd - Performance at "Hotaru" (fireflies) Festival, Natasho Town, Fukui Prefecture
July 8th - Members of the group toured and performed with Hayashi Eitetsu on his national "Winds and Clouds" tour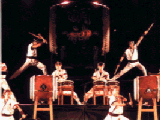 Included : NHK Hall ,Tokyo
Shiga Festival Isikawa Prefecture
Daikyo Festival, Akita Prefecture
1996 O.TA.I.KO Festival, Fukui Prefecture
Japan's National Theatre, Tokyo
National Culture Festival, Toyama Prefecture
August 24th - 1996
O.TA.I.KO
Festival.
@
@'m'd'v'r@'o'`'o'd'q@@ADELAIDE.AUSTRALIA
The Advartiser Freiday,March,8,1996@@@@@@@@@@@@'a'™@'c'`'u'h'c@'r'e'x

The pounding of the glant drums shakes your soul to life. Coupled with fireworks exploding in syncopation with the rhythm, the team of 11 drummers from the Japanese village of Ota set in full flight against the freight-yard clutter of Red Square and a balmy full moon was a truly evocative scenario. It didn't matter that the performance was essentially cerebral in nature: a methodical and highly disciplined series of routines built around swelling dynamics and enduring intensity.
It was the heady spirit of the drummers which made the occasion so powerful. They seemed fuelled by a motivation far greater than the euphoria of performance - a sense of pride in representing their famous drumming village, in continuing the rich history, of playing the centuries-old drums.
Curiously, their commitment to traditional drumming patterns was augmented in places by flute and string washes from a synthesiser. Still, such musical decoration never detracted from speed and agllity of the drumming through taxing 10-minute pieces, presented as ensemble works and duo pieces. When it was done, they tripped from the arena giddy with exhaustion, spent from their efforts of concentration and commitment. It proved that the intensity of their performance is as much a product of the mind as it is of the hands.
@The Advartiser, Wensday, March 6, 1996@@Thousands miss out on late scene@@@@@@By CHLOE FOX

An impromptu Latin fiesta exploded on Monday night in the Red Square, after 2500 spectators went beserk over Tito Puente's magnificent performance with the
Taiko Drummers of Ota
People danced in their chairs on their chairs, around their chairs and anywhere they could as Tito drummed them into passionate ecstasy. Backstage, artist jostled for a glimpse of the Latin/Japanese fusion combo. The oyerall result? An upsurge of people rose into a spontaneous, screaming, crying standing ovation for the 73-year-old and his Japanese colleagues
Pity the poor people outside, however. As the weather grew warmer the queues were lengthening outside the mega-park of entertainment, and tempers were getting shorter as entrance was refused to more than 7500 hopeful viewefs. The security people are treating Red Square punters llike deranged Take That fans,
@The Advartiser, Tuesday, March 5, 1996 @@Night spot knocks city socks off@@@@@@@@By CHLOE FOX

Once upon a time Sunday night in Adelaide meant going to bed early with a pair of bedsocks and devotional verse. No longer. Crowds flocked for the third night in a row to the Red Square on Sunday night, eager to catch a glimpse of the free entertainment on offer.
Outside in the public amphitheatre, South Australia's much loved designer, Razak from Gladys Sym Choon floated through the audience in an extremely fetching skirt, just before the
Talko Drummers of Ota
scored a standing ovation from an ecstatic crowd.
@
The Advartiser, Thursday, March 7, 1996
'e
estival Star Line-up aiko Drummers of Ota. Red Sqare.
* * * *
@"
S
hakes your soul to life."
DS
@
The Sunday Mail, Sunday, March 3, 1996
music was matuhed only by the grace and awesome rythyms of Japan's@ 'saiko Drummers of Ota, who closed concert.
The drums,originaly used to workship guardian deities, combined in a vital,spiritual performance which left the crowd spellbound.